Main content starts here, tab to start navigating
Art & Design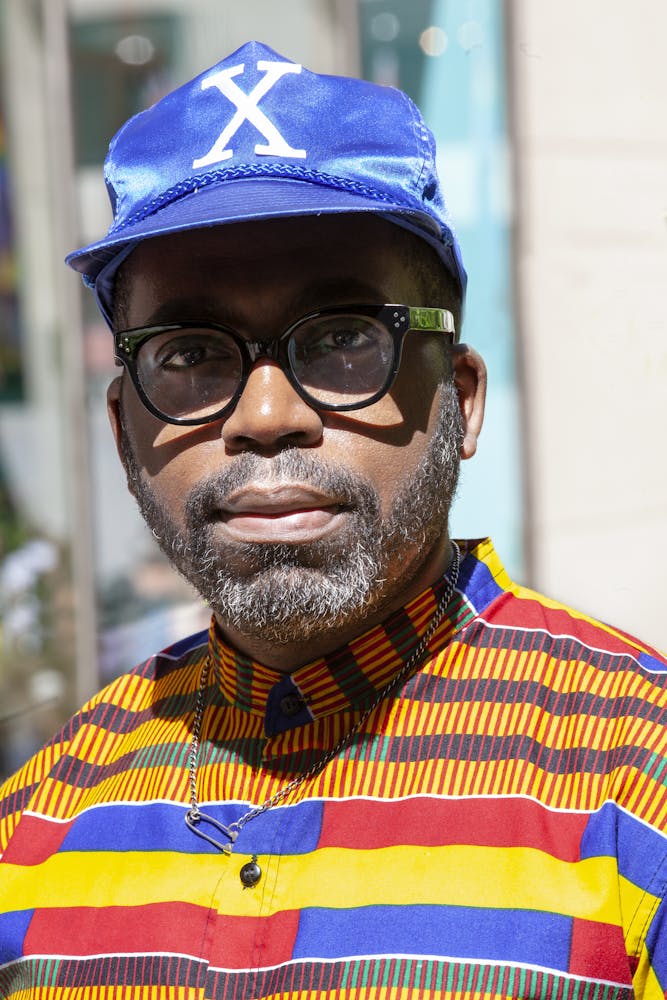 Derrick Adams
Born in Baltimore in 1970, Derrick Adams is a Brooklyn-based artist whose work spans painting, collage, sculpture, performance, video, and sound. Adams obtained his BFA from the Pratt Institute and MFA from Columbia University. He is also an alumnus of the Skowhegan School of Painting & Sculpture. Among other honors, the artist received a Robert Rauschenberg Foundation Residency and Gordon Parks Foundation Fellowship. With his oeuvre, Adams probes how identity and personal narrative intersect with American iconography, art history, urban culture, and the Black experience. The artist explores how individuals are shaped by their physical, societal, and historical environs. With sophisticated formal techniques, Adams investigates the fragmentation and manipulation of structure and surface—a method that links him to pioneers such as Henri Matisse, Hannah Höch, and Romare Bearden.
Adams has been the subject of solo exhibitions at institutions such as The Momentary, Crystal Bridges Museum of American Art, Bentonville (2021); SCAD FASH Museum of Fashion + Film, Savannah (2020–2021); Hudson River Museum, Yonkers (2020); Museum of Fine Arts, St. Petersburg (2020); The Gallery in Baltimore City Hall (2019); and the Museum of Arts and Design, New York (2018). The artist has mounted public installations commissioned through MTA Arts & Design at the Nostrand Avenue LIRR Station, Brooklyn (2020–ongoing); and RxART at NYC Health + Hospitals/Harlem (2019–ongoing). His work has been featured in notable group exhibitions, including Textures: The History and Art of Black Hair, Kent State University Museum (2021–2022); Jacob Lawrence: The American Struggle, Peabody Essex Museum, Salem (2020), now at the Seattle Art Museum (2021); Men of Change: Power. Triumph. Truth., National Underground Railroad Freedom Center, Cincinnati (2019), traveled to Washington State History Museum, Smithsonian Institution, Tacoma (2019–2020); and Performa, New York (2015, 2013, 2005). His art resides in the collections of The Metropolitan Museum of Art, New York; The Studio Museum in Harlem; the Whitney Museum of American Art, New York; the Virginia Museum of Fine Arts, Richmond; and the Birmingham Museum of Art, among many others. He has recently established an artist program and residency in his hometown of Baltimore called The Last Resort.
On the mermaid:
I started to really think about the mermaid as the central figure in the restaurant. It's almost like a beacon. I felt like I wanted to create something that was so mystical and so opulent and textured that it can also be used as a light to draw people in, to set a tone and a mood for the restaurant that's not just about service, it's about imagination.

On being in Chelsea:
Once I went to the site and saw the location, I really started to think about the experience beyond the food in a space that is a part of an arts district…welcoming in visual thinkers and creative minds, and serving as a meeting ground for engagement and communion, like a gallery.